You are here
Last-minute summer travel tips
Summer is flying by and you've just realized that you don't want to let it pass without doing something to celebrate this time off. But, summer is high travel season and prices often skyrocket in August. You may think it's impossible to take an affordable trip this late in the season, but we have news for you: it's not.
With a few tips and some destination inspiration, you could be on your way to an affordable and memorable trip before the bell rings again.
Last-minute travel planning tips
1. Determine your budget
This is the most important factor in planning a last-minute vacation. Be realistic about the amount of money you can and want to spend on this trip and choose a location accordingly.
2. Have some flexibility
Depending on the destination, you'll find that weeknights are often less expensive than weekends for hotel rates. When searching, choose different date ranges to see how the prices compare.
3. Be ready to commit
If you find a good deal, whether it be on flights or hotel stays, don't wait to book it. You might find that the next day, or even a few hours later, the prices have changed.
4. Choose your location wisely
Looking for a good deal? Head to a spot where summer isn't high season. Florida or Arizona are great choices if you can stand the heat, or visit the southern hemisphere, where it's currently winter.
5. Take a risk
The end of August gets busy with back-to-school preparations, but flight prices are likely to drop in the middle of August. If you can wait until this time, you'll pay less than you would to travel earlier in the month. Start that back-to-school shopping now!
While there are many locations for you to find last-minute deals, we've put together a few suggestions. The hotel rates* were scored using our brand-new hotel program, HotelEngine, unless otherwise noted.
Scottsdale/Phoenix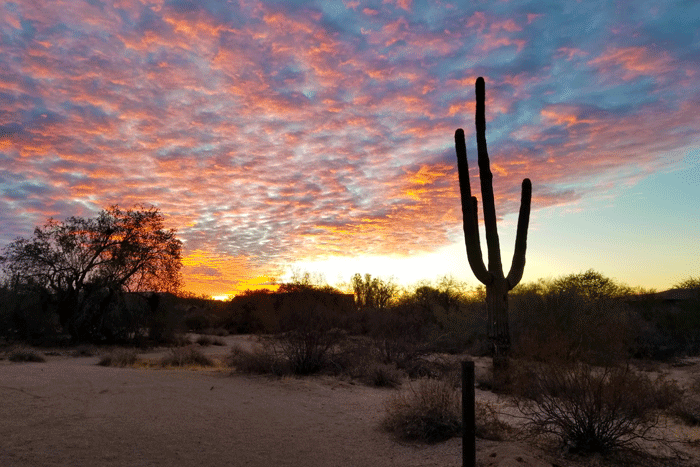 This might seem like a crazy suggestion, given that average highs in August hover around 100°. But with beautiful resorts and spas and plenty of indoor fun, a trip to Scottsdale could be the rejuvenating trip you need before returning to school.
Beat the high temperatures at Scottsdale's Museum of the West – 35,000 square feet of art and artifacts that includes inspiration from Texas to the Dakotas. Architecture aficionados will be thrilled to take a tour of Taliesin West, the home of Frank Lloyd Wright, where tours range from an hour to two and a half hours. Advance registration is required.
If you're willing to brave the sweltering heat, the McDowell Sonoran Preserve is a beautiful spot with more than 200 miles of trails for those of all fitness levels. Or, book a tour at the Southwest Wildlife Conservation Center (SWCC), where you'll enjoy 2 hours dedicated to the native wild animals rescued by the SWCC after they've lost their homes to development or found injured or abandoned.
For breathtaking views of Camelback Mountain, the Omni Scottsdale Resort & Spa is the perfect retreat. Rates start at $93/night for a mid-week stay. In nearby Phoenix, spend just $86/night to stay at the Arizona Biltmore, with a relaxing spa, golf course and 8 outdoor pools. Don't need the frills of a resort? Snag a deal for as little as $52/night at the Comfort Suites Old Town Scottsdale.
Orlando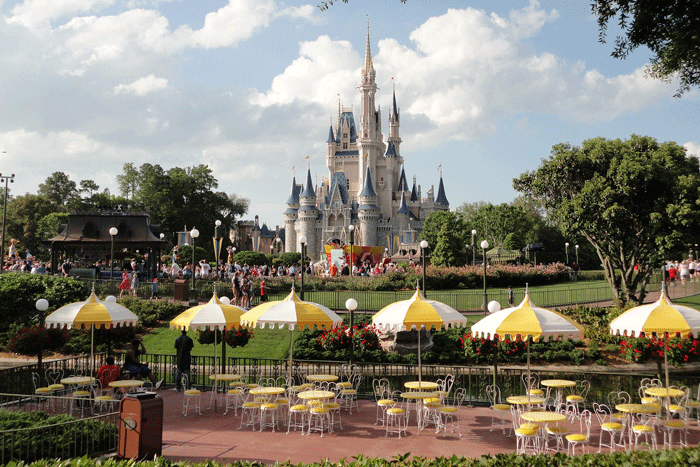 The happiest place on Earth might not seem so in 90° weather with massive crowds. But, if you're willing to overlook those minor details, you can score some great lodging and flight deals to Orlando. Do a quick online search for flights and you'll find that rates decrease in mid-August. The MTA Benefits program with Orlando Member Discounts offers low rates on hotels, townhouses and vacation homes.
Staying just a few miles away from Disney instead of right inside the park will result in huge savings. An August mid-week trip to Disney could cost you as little as $77/night at the Holiday Inn Resort Lake Buena Vista, which provides a free shuttle to Disney World, Universal Studios and Islands of Adventure. If you're looking for a little more space or want to join forces with another family for extra savings, book a 4-bedroom townhome at Emerald Island, just 2 miles from Disney, for $112/night.
Orlando Member Discounts also offers savings on park tickets to Disney World, Universal Studios, Islands of Adventure, Aquatica and more, so check out the options before you buy yours!
Mackinac Island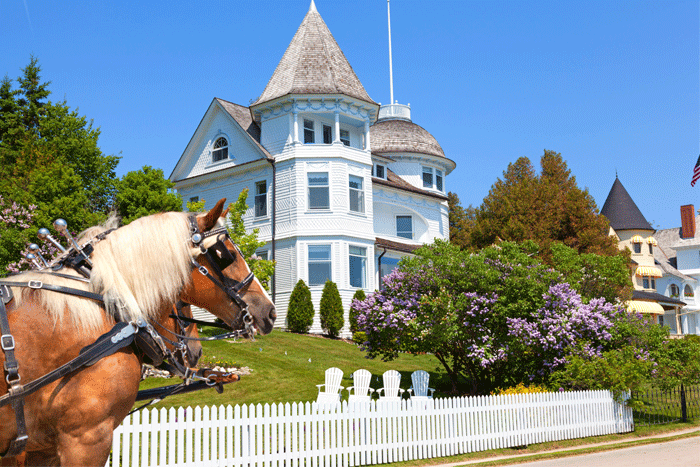 You may not have heard of Mackinac Island before now, and Michiganites would like to keep it that way. Well known to those in the area but having flown under the radar to the rest of the country, Mackinac Island is a national landmark and popular vacation destination.
Found in the northwest corner of Lake Huron, Mackinac Island has no cars and no chain hotels – but plenty of famous fudge and extraordinary sunsets. Take a carriage tour with stops at the carriage museum, Mackinac Butterfly Conservatory and Arch Rock – a natural limestone formation found 146 feet above the water. Or, rent bikes and pedal around the shoreline of the island for a beautiful 8-mile tour of the lake.
Due to the lodging options being mostly bed & breakfasts, cottages and independent resorts, staying on the island can be expensive. Instead, stay off-island at just a 20-minute ferry ride away and you can find deals like $96/night at the Holiday Inn Express in St. Ignace or $77/night at the Days Inn & Suites by Wyndham, Mackinaw City.
Burlington, Vermont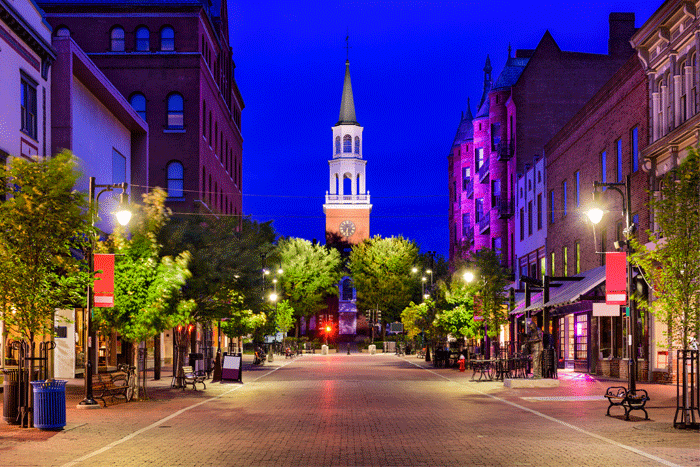 Located on the shores of Lake Champlain, Burlington is a beautiful destination any time of year. And when you're on a budget, not having to book a flight to get there is crucial. For as little as $160/night, book a room at the Hilton Burlington Lake Champlain, just a block away from the waterfront. Or, stay just outside of the city center and save almost $100 per night. Rates at the Comfort Suites in South Burlington start at $62/night.
With no shortage of activities, Burlington has a little something for everyone. The Shelburne Museum is made up of almost 40 buildings filled with various exhibits, including paintings by Degas, Manet and Monet. Church St. Marketplace provides hours of fun, with open-air restaurants, many shops and street performers. The best part about it? No cars allowed. If you're on an adults-only trip, make sure to stop by Magic Hat Brewing Company. Offering guided tours and free tastings of their famous beers, plus artisanal cheese plates and grilled sandwiches, it's a must-visit while you're in the area. But, perhaps the biggest draw to Burlington is its spot on Lake Champlain. Offering gorgeous sunset views, bike paths and ample picnic areas, the Waterfront is the perfect place to spend an afternoon for little to no money.
Depending on the route you take up there, you may pass by one of the MTA Benefits discount locations, like the Birds of Vermont Museum in Huntington or the Brattleboro Museum & Art Center.
A few of these vacation destinations might require you to rent a car. As one of our most popular programs, MTA member car rental discounts could save you up to 25%.
Looking for some other fun ideas before summer is over? Check out this post on summer fun with your MTA member discounts.
*Hotel rates were accurate at the time of publication. Subject to change.